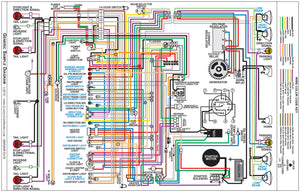 1967 Lincoln Continental Color Wiring Diagram (HARDTOP)
This diagram is for hardtop models only. Convertible listed separately (window diagrams are different)

Factory wire colors, specific to your Lincoln.

Includes complete car, power windows, and air conditioning diagrams.

Large size, clear text and easy to read.

All diagrams are laminated for ease of use.
Product images on our site are generic. The diagram you receive will be specific to your vehicle